Revolutionary Training Program Hits Alamo Boot Camp, Residents Lose Unwanted Weight in Record Time
The residents in the town of Alamo, California are experiencing something that the rest of the country dreams of- they are actually enjoying getting into the best shape of their lives.

What is so special about Alamo and why is this phenomenon taking place there? Mark Rogers, Northern California's
most respected personal trainer in Alamo
, has introduced the
Blazin' Bodies Boot Camp
, and is changing the way people look at fitness forever.
For years, bootcamp training has been very popular for people who lead busy and active lifestyles, but they have never been
this successful
. Mark's clients are feeling and seeing the results of his Alamo boot camp training in only
days
, not weeks or months.
Unlike many other bootcamps, this program combines a
customized nutrition plan
with the explosive
cardio, weight, and core training
necessary to melt the fat away. There constant variation with the exercises, causing the body to respond with
each and every
movement.
Perhaps the biggest reason for the
incredible success
of the Blazin' Bodies Boot Camp is that it is
not
designed for temporary weight loss. The main goal of the program is to help people maintain their ideal physiques
for life
. Literally
hundreds
of Mark's clients in Alamo have watched in amazement as their weight drops, their body tones, and they experience more energy each day.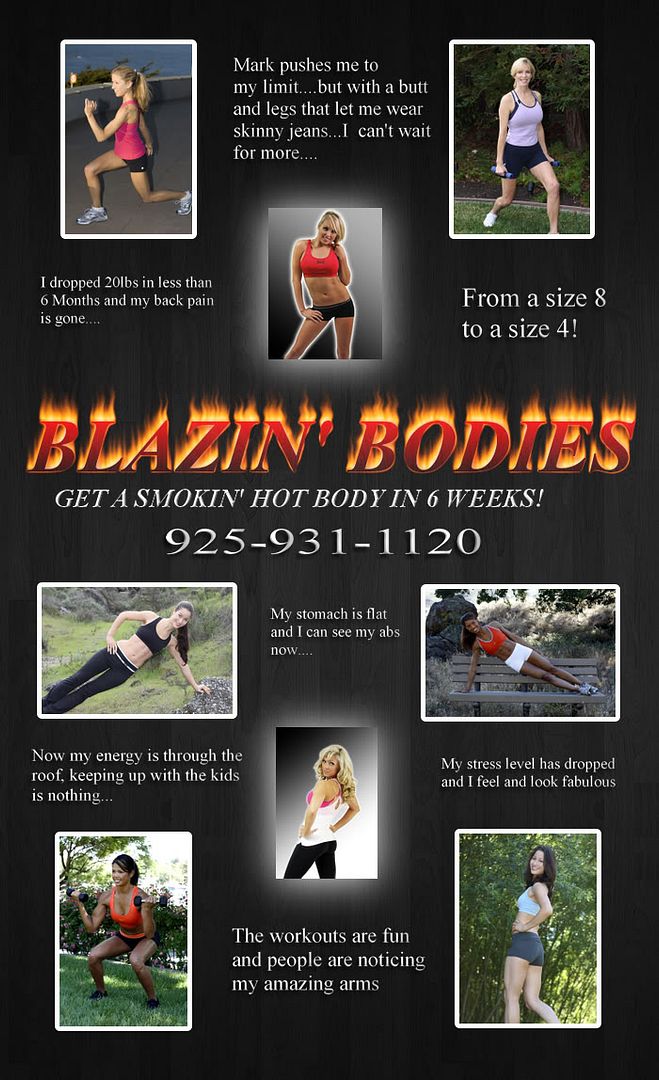 Mark uses all of the things he has learned, in
helping hundreds of clients battle for weight loss,
to deliver a training program that is not only
effective
, but also
fun
. Staying motivated is a big part of any exercise routine, and with the Blazin' Bodies Boot Camp, it is
impossible to lose focus
or become bored in
any
way.
While other Alamo boot camps might claim to have a "guarantee", nothing comes close to the one that Mark gives to every client:
If after leaving the Blazin' Bodies Boot Camp, you ever regain any weight, you can come back and train for free.
This commitment assures people know that he is dedicated to making sure your achievements are
for life
.
As an added bonus and incentive, everyone who completes the Blazin Bodies Boot Camp receives a
free pair
of designer "skinny" jeans. Plus, a
fast, convenient approach
makes it possible for people with even the busiest schedule to enjoy the benefits of being in their
best shape
.
If you are ready to meet the new you and become
toned and sculpted
, while having
more energy
, please contact Mark as soon as possible. The high demand for the program is making reservations limited, so if you are serious,
now is the time to call 925-931-1120
.
If you would like more information or details about the exclusive Blazin' Bodies Boot Camp, please click here:
Alamo Personal Training
Danville Boot Camp
San Ramon Fitness Boot Camp
Dublin Boot Camp
The Blazin' Bodies Boot Camp serving Alamo and surrounding areas, Including 94507
________________________________________________________________________
Mark Rogers Fitness is proud to offer its exclusive boot camps all across the Tri-Valley and Northern California. Just click on your area for more information.